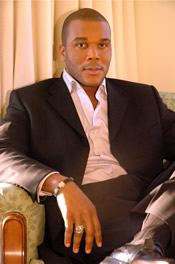 This
video clip
really gives a little glimpse into Tyler Perry's character. I like the professional and humorous approach he took to deflect this situation. It really could've gotten worse.
As far as the anchors, It seems as if any asshole on the local level can land one of those gigs.
Anyways, with
no man
and
no plans
this weekend. I think I'm going to go check out "Why Did I Get Married? ". I love Janet and Jill, so that's a good enough reason for me. I don't have any big expectations for the film. Maybe he'll shock me.